Probudila se sa grudvicom na oku koja se premeštala na SVAKIH 5 DANA: Lekar joj je rekao O ČEMU SE RADI i – MOŽE DA SE DESI SVAKOME
Zamislite da se jednog jutra probudite sa nevinom izbočinom na oku. Ne zvuči toliko strašno, zar ne? A zamislite da ta izbočina postaje sve veća i veća i počne da migrira po celom licu! A uzrok svega je tek zastrašujući.
Neimenovana žena stara 32 godine iz Rusije probudila se jednog jutra sa izbočinom ispod levog oka. Pet dana kasnije, izbočina se pomerila na gornji kapak. Deset dana kasnije, preselila se u gornju usnu.
Sve to je zabeležila selfijima. Bolova nije bilo, tek nešto malo svraba. Dve nedelje od prve pojave izbočine, shvatila je da nešto mora da preduzme, te je otišla kod oftalmologa.
Tamo joj je rečeno da ta izbočina hitno mora da se vadi operativno. E, sad tu stvari postaju gore.
U toku operacije, hirurg je izvukao dugačkog, belog crva iz ženinog lica.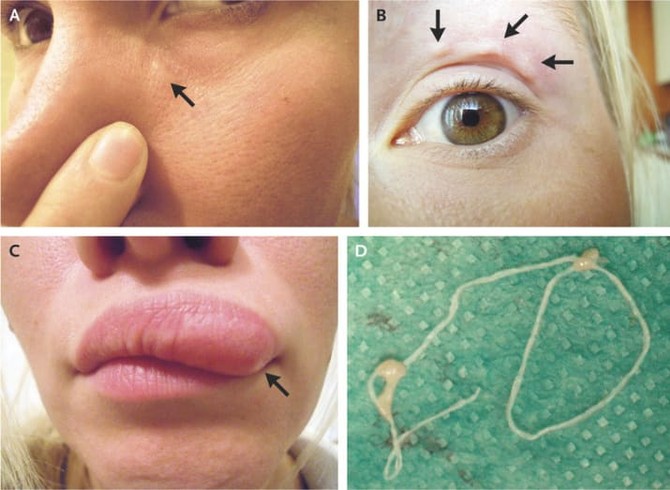 Ispostavilo se da je u pitanju Dirofilaria repens, parazit koji joj je izazvao tešku infekciju.
Na svu sreću, tu je kraj njenim mukama – parazit je izvađen, a ona se oporavlja.
Ali šta je Dirofilaria repens?
U pitanju je, kao što smo rekli, parazit koji uglavnom muči pse, mačke i druge životinje mesojede. Na ljudima se teže nalazi, a kada se to desi, obično se to dogodi zbog ujeda komarca.
Kada se infekcija desi ljudima, prvi simptom je izbočina na nekom delu tela, ne mora da bude lice. Zvuči odvratno, ali ovaj parazit obično ne donosi neku veliku štetu ili opasnost osim otoka i iziritiranosti.
U principu, jedino što možete da uradite da biste izbegli da vam se ovo desi jeste da pokušate da izbegavate komarce.
Komarci koji prenose ovog parazita žive u Evropi, Aziji i Africi. U Americi ih nema.
Izvor:https://receptibalkana.net/